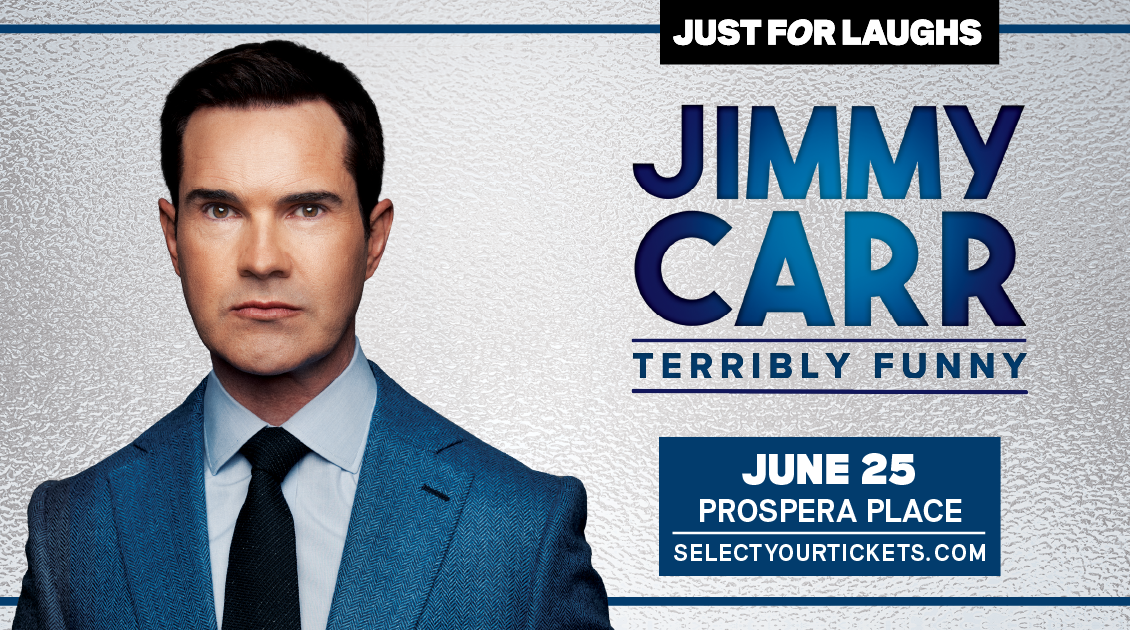 DUE TO OVERWHELMING DEMAND MORE CITIES ADDED TO JIMMY CARR'S CANADIAN TOUR
FOR THE FIRST TIME, JIMMY WILL BE COMING TO 
KELOWNA
WITH HIS NEW SHOW
JIMMY CARR: TERRIBLY FUNNY
KELOWNA, BC ● PROSPERA PLACE ● JUNE 25, 2023
Due to overwhelming demand, Just For Laughs has announced that additional cities have been added for UK comedy superstar Jimmy Carr with his new show Jimmy Carr: Terribly Funny.  A household name in UK television and star of the UK's most streamed Netflix comedy special of 2021, His Dark Material, Jimmy, will make his first appearance in Kelowna, BC on June 25, 2023 at Prospera Place as part of his national Terribly Funny tour.
This is the third time that Jimmy will be back on the road in Canada following two sold out tours with Just For Laughs in 2016 and 2018. Featuring completely new material, the Terribly Funny tour is slated to be his most successful tour to date, with ticket sales expected to exceed 480,000 by the end of the year.
About Terribly Funny
Jimmy's show contains jokes about all kinds of terrible things. Terrible things that might have affected you or people you know and love. But they're just jokes – they are not the terrible things. Having political correctness at a comedy show is like having health and safety at a rodeo. Now you've been warned, buy a ticket.
About Jimmy Carr
One of the biggest-selling comedy acts in the world, Jimmy consistently performs stand-up to sell-out crowds across the globe. At the latest count he has taken tour shows over forty different countries, including two sold-out tours in Canada in 2016 and 2018. His last tour, Best Of Ultimate Gold Greatest Hits, sold over 480,000 tickets globally with current show, Terribly Funny, set to exceed that figure by the end of 2022. In 2023 the tour continues in to 2023 with shows in Australia, New Zealand, Canada and beyond.
Jimmy is a household name in UK television, well known for hosting Channel 4's 8 Out Of 10 Cats, 8 Out Of 10 Cats Does Countdown and Big Fat Quiz Of The Year in addition to presenting Comedy Central's Roast Battle UK and Your Face Or Mine. He is a regular on all the top panel shows, including QI and A League Of Their Own, has performed as part of The Royal Variety Performance three times, is a judge on hit BBC1 entertainment series I Can See Your Voice and the host of brand-new Channel 4 gameshow I Literally Just Told You.
Jimmy is also a high-profile name in North America. He was the first UK comedian to sign a stand-up deal with streaming behemoth Netflix in 2015, releasing three specials on the platform, Funny Business (2016) and Best Of Ultimate Gold Greatest Hits (2017) and His Dark Material (2021) which was Netflix's most watched stand-up comedy special in the UK that year. He also presented and exec- produced an original panel show format for Netflix, The Fix, and has been a guest multiple times on US staples such The Tonight Show, The Late, Late Show and Late Night With Conan O'Brien. He has performed at the Montreal Just For Laughs Comedy Festival since 2003 with more appearances than any other UK act in that time.
Jimmy is also a published author. He co-wrote The Naked Jape: Uncovering the Hidden World of Jokes in 2007 and his highly anticipated memoir Before & Laughter was released in September 2021, making The Sunday Times Bestsellers list.
About Just For Laughs
Global leader in comedy and home to the #1 Comedy Festival in the World, Just for Laughs Group has been launching and championing top comedic talent – including Jerry Seinfeld, Bill Burr, Kevin Hart, Amy Schumer, Ali Wong, Hannah Gadsby, Hasan Minhaj, Jo Koy, Canada's very own Rick Mercer and Russell Peters – for close to 40 years. Founded in 1983, the company is an international powerhouse in the creation of multiplatform comedic content. Every year, millions of spectators are entertained at its worldwide festivals, from Montréal – the biggest comedy event in the world – to Toronto and Vancouver, Canada; Austin, U.S.A.; London, UK; and Sydney, Australia; featuring thousands of Canadian and international comedians – from well-established artists to aspiring up-and-comers. With concentrated growth on television development and production, the Group's digital and televised content is shown in over 150 countries and followed by an online audience of over 14 million. In addition, the Group produces touring shows, stages its own musicals and is the originator of the ComedyPRO industry conference along with the daytime, fan centric, ComedyCON event.