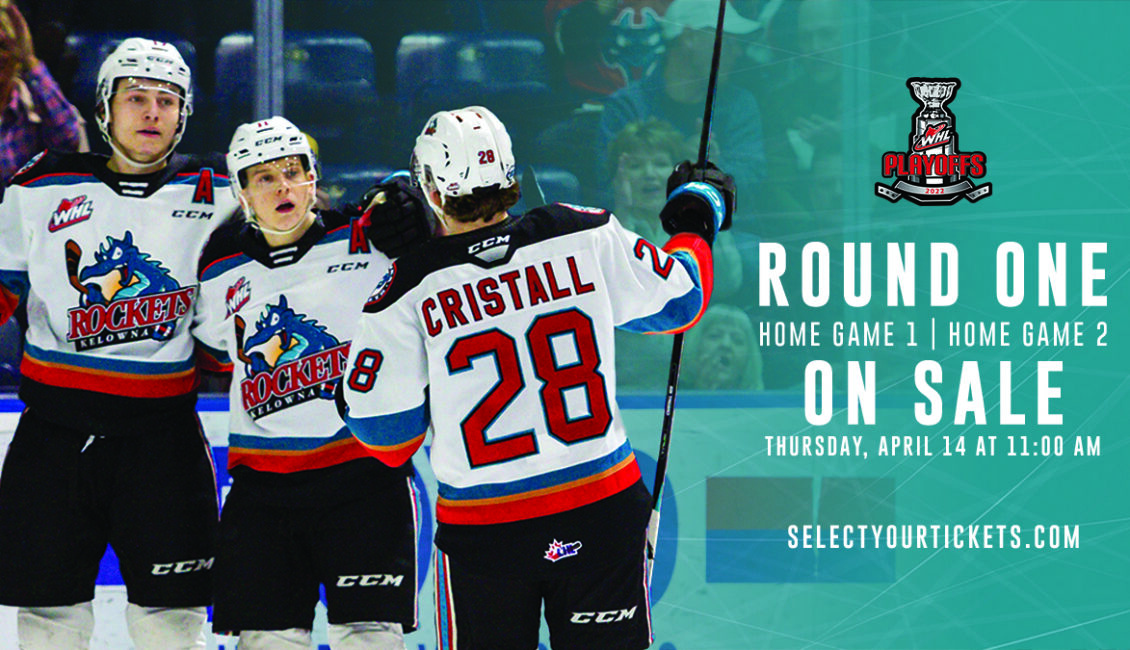 Single-game tickets for the first two home games of Round 1 of the 2022 Western Hockey League Playoffs at Prospera Place will go on sale Thursday, April 14 at 11 AM at Select Your Tickets.
Fans can purchase their tickets online at selectyourtickets.com, at the Prospera Place box office or by phone at 250-762-5050. The box office is open 11:00 a.m. to 4:00p.m. Tuesday through Friday, and opens at 1:00 p.m. on Saturday home game days.
The opening round matchup between the fourth-seeded Seattle Thunderbirds and the fifth-ranked Rockets will commence with Game 1 on Friday, April 22 at the accesso ShoWare Center.
Game 1 – Friday, April 22 @ Seattle, 7:05
Game 2 – Saturday, April 23 @ Seattle, 6:05
Game 3 – Tuesday, April 26 @ Kelowna, 7:05
Game 4 – Wednesday, April 27 @ Kelowna, 7:05
Game 5 (if necessary) – Friday, April 29 @ Seattle, 7:05
Game 6 (if necessary) – Sunday, May 1 @ Kelowna, 2:05
Game 7 (if necessary) – Tuesday, May 3 @ Seattle, 7:05
The 2022 WHL Playoffs will feature the re-introduction of a Conference Playoff format.
The Conference Playoff format was last used during the 2014 WHL Playoffs, with the Division Playoff format in place since the 2015 WHL Playoffs.
The first-place teams in the two Divisions in each Conference will receive the top two playoff seeds based on Regular Season points. The next six Clubs in each Conference, based on Regular Season points, will receive the third to eighth playoff positions.
Clubs advancing to the second round and Conference Championships will be re-seeded each round based on Regular Season points. The two Conference Champions will advance to the WHL Championship Series, with the Club possessing the most Regular Season points receiving home-ice advantage.
All series throughout the 2022 WHL Playoffs will follow a best-of-seven format.