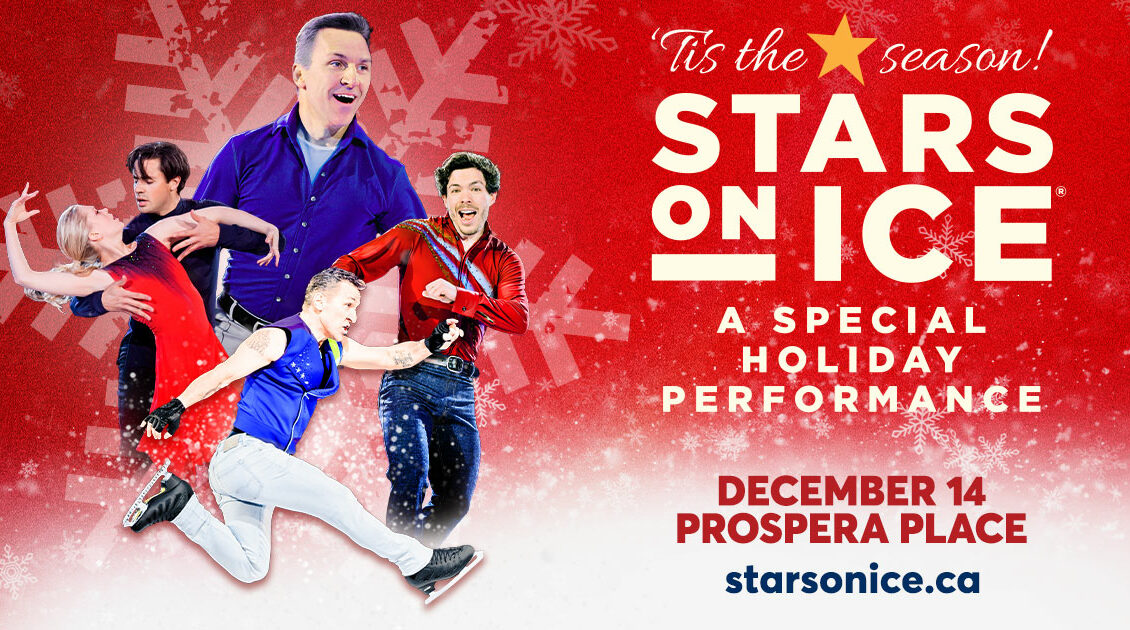 ELVIS STOJKO TO HOST A SPECIAL
STARS ON ICE HOLIDAY EVENT
DECEMBER 14 AT PROSPERA PLACE
Cast Includes Canadian and International Champions
Two-time Olympic Silver Medalist, three-time World Champion and seven-time Canadian Champion Elvis Stojko is hosting a holiday celebration that promises to be the premier party of the season. His guest list includes among the best and most popular figure skaters in the world, and thanks to the 2023 Stars on Ice "Holiday" tour, everyone is invited! North America's preeminent figure skating show will visit Kelowna on Thursday, December 14 for a 7:00 PM performance at Prospera Place.
This December, Stars on Ice delivers Elvis' special holiday rendition of its award-winning figure skating show to North America. Stojko's guest list for this special Stars on Ice "Holiday" tour features a star-studded cast that is sure to check the boxes on every skating fan's wish list. The holiday cast includes: three-time Canadian Dance Champions and three-time World Medalists Kaitlyn Weaver & Andrew Poje; two-time reigning Canadian Champion and Olympian Keegan Messing; Olympic Silver Medalists, World Champions and two-time and reigning U.S. Pair Champions Alexa Knierim & Brandon Frazier; two-time World Medalist and four-time Japanese Champion Satoko Miyahara; three-time Canadian Pair Champions and Olympians Kirsten Moore-Towers & Michael Marinaro; U.S. Champion Mariah Bell; and Canadian junior champion and social media sensation Elladj Baldé. Stay up-to-date on cast additions and show announcements at www.starsonice.ca.
In addition to skating in this year's holiday production, Kaitlyn Weaver has also assumed the mantle of show choreographer, the first time she has taken on this role in a Stars on Ice production.
Limited on-ice seating is available. Tickets are available via www.starsonice.ca and www.selectyourtickets.com. Please visit www.starsonice.ca for the latest show announcements.
Stars on Ice is pleased to have World Vision Canada as the Official Charity for the 2023 Stars on Ice "Holiday" Tour.
Stars on Ice continues to be a pioneer in figure skating by offering fans throughout North America the rare opportunity to witness some of the world's most accomplished and artistically gifted champions performing together in both individual and ensemble routines.
About Stars on Ice
Founded in 1986 by skating icon and Olympic Gold Medalist Scott Hamilton, the Stars on Ice tour originated in the United States.  In 1991, Stars on Ice began to tour Canada and has now played more than 300 shows in the past 30+ years.  Past tour performers include Tessa Virtue & Scott Moir, Kurt Browning, Jamie Salé & David Pelletier, and Joannie Rochette. Stars on Ice is produced by IMG, a global leader in sports, events, media, and fashion.  For more information about the tour, visit www.starsonice.ca. Keep in touch with Stars on Ice on Facebook: www.facebook.com/starsonice Instagram: www.instagram.com/starsonice, and on Twitter: https://twitter.com/starsonice.